Face-to-face lessons, COVID SECURE!
*** Our premises in Farnborough Street have sadly closed, but Matt continues to teach students at another location in Farnborough. Please get in touch for more info. ***
We're reopening for face-to-face lessons very shortly and have taken every measure we can to ensure we're COVID-SECURE. We take your and our safety very seriously. See the attached video for all our measures.
If anyone wants to continue online that's all fine, we can slowly swap back as and when you're ready and comfortable to do so, or you can stay online if that's more convenient.
Please register your interest for a return to the studio or online lessons, as we'll base our transition back on the students' needs.
Our large studio is 7m long so social distancing is easy, and if any students want to wear a face covering during their lesson of course that's fine.
Main points:
• All lessons one-on-one & socially distanced (more than 2m!)
• Dedicated entrance to studio, with an outside door open to circulate air (weather permitting)
• Minimal surface contact & regular thorough cleaning with alchohol based cleaner
• Cleaning station for students, with 70% alchohol based hand sanitiser
• All students must bring their own instrument & tune it themselves to minimise surface contact
• Minimal footfall, 7-8 students per evening (compared with for example a supermarket with hundreds per day)
Initially it will only be Matt at the school, but we hope to return to face-to-face for more lessons as soon as it's feasable to do so.
We will be running a one off trial evening soon, likely a Wednesday, just to kick things off and see how things go. Then we can make any necessary adjustments and will go forward from there.
Any questions or concerns please get in touch.
We hope you have all still been practising hard, and we hope to see you face-to-face real soon.
Stay safe,
Matt
We take your safety very seriously!
Last updated: 1st November 2020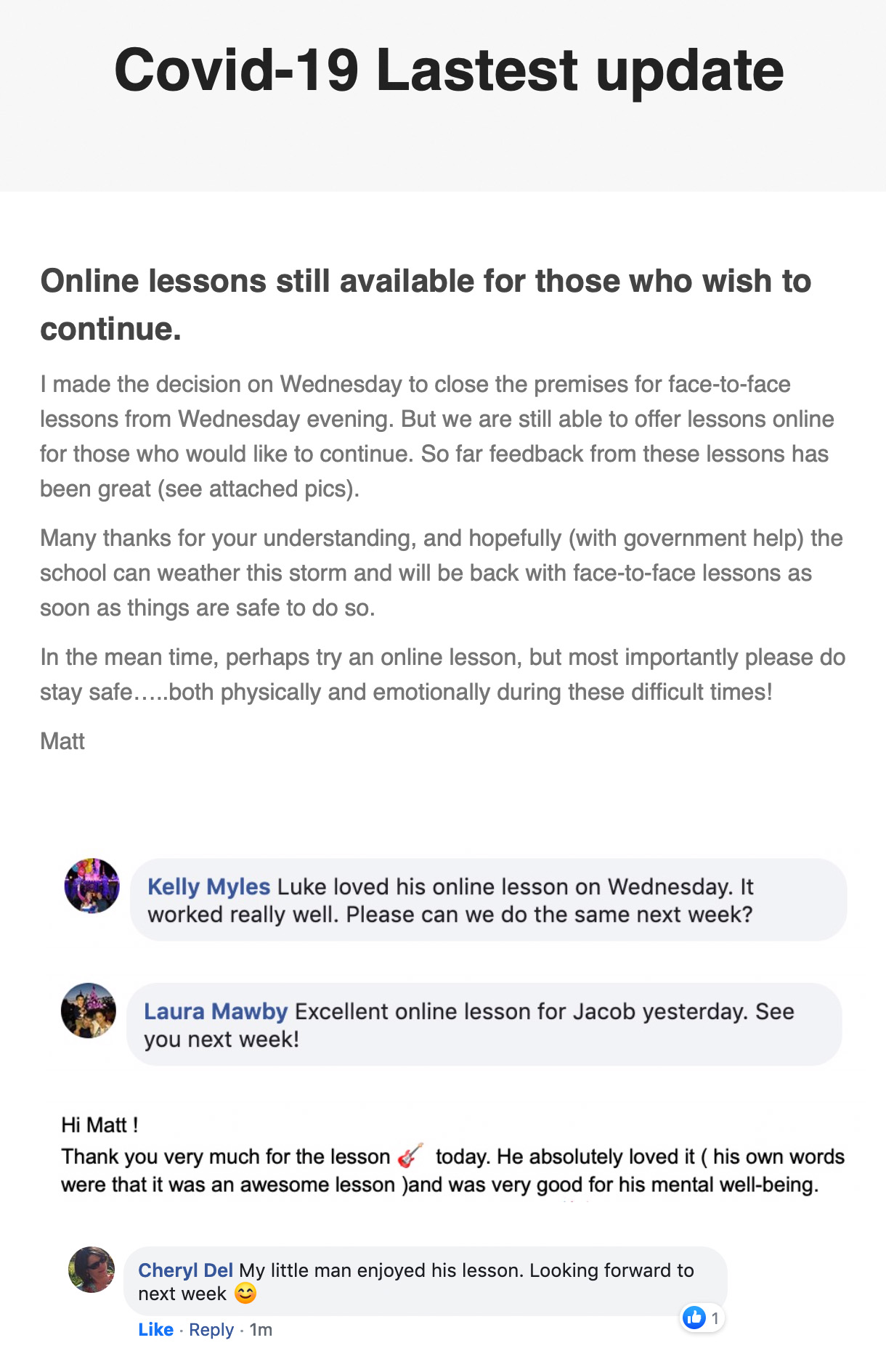 Last updated: 20th March 2020
Welcome to Goodall Guitar School. We offer top quality, fun guitar tuition for all ages* and abilities. Children can start from 7 years and adults are welcome, there is no upper age limit.
Private lessons currently run Monday to Thursdays from around 3.30pm and we also run various events and workshops outside of private lessons.
Sorry, we don't currenty have an active number
age 7 to adult
all levels
electric
acoustic
private lessons
workshops
performances
Students can start from age 7 and you're never too old!