Matt Goodall
Founder & head tutor
Matt has taught guitar for over 15 years and holds both a CertHE and HDip from the Academy of Contemporary Music.
He was invited by Cheryl Baker (Bucks Fizz) to play guitar in the schools We Will Rock You. He has worked as guitar/keyboard tech for top musicians inc. Graham Gouldman (10cc), Spike Edney (Queen's MD), Steve Stroud (bassist, cliff Richard), and our Patron Jamie Moses, including at venues such as Abbey Road Studios.
Other teaching experience includes horse riding (BHSAI), Ju Jitsu (2nd degree black belt), and Judo (1st degree black belt).
Goodall Guitar School
Charlie Griffiths
Charlie teaches all styles and levels of guitar from beginners thru to advanced players. His specialties are metal and technical development and he is great at helping the more advanced students play with greater speed and accuracy.
Charlie has a BA Honours in Music Performance from the Academy of Contemporary music. His metal band Doomed from Day One have a large following and gig all over Europe. They can be found on iTunes and past gigs include events such as Guilfest.
Goodall Guitar School
Dan Morris
Dan has over 10 years of musical practice and performance, starting at the age of 14, inspired by his cousin Paul Ryan, a midlands based singer-songwriter. Dan specialises in playing pop, rock and blues, but has experience in playing in punk, metal and hip-hop bands. As well as being proficient on guitar, he also has a strong understanding of vocal and drum performance. Having recently graduated from the Academy of Contemporary Music in Guildford, Dan is currently the frontman for local pop-funk quintet Joe Serious and The Business, who are due to release their debut EP in the coming months. As well as this, Dan also plays bass for local country 6-piece Backwoods Creek.
Goodall Guitar School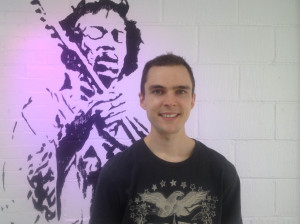 Gustin Forde
Gustin has over 10 years of performance experience playing a wide variety of styles including rock, pop, blues, and funk. He plays guitar, bass guitar, keyboards and sings.
Throughout the years he has been involved in many bands playing at pubs, clubs, weddings and festivals in Ireland and in the U.K.
He graduated from the Academy of Contemporary Music with a Higher Diploma and Degree in guitar.
Another of his main interests is songwriting and is now currently writing and recording for his upcoming E.P.
Goodall Guitar School